Get stock alerts from from over 20 full-time traders.
Trade alerts include day trading, swing trading, and long term investing – all with win rates over 75%.
Stock Dads includes live trading, trade alerts from dozens of traders, classes on how to trade, and mentorship from professional traders.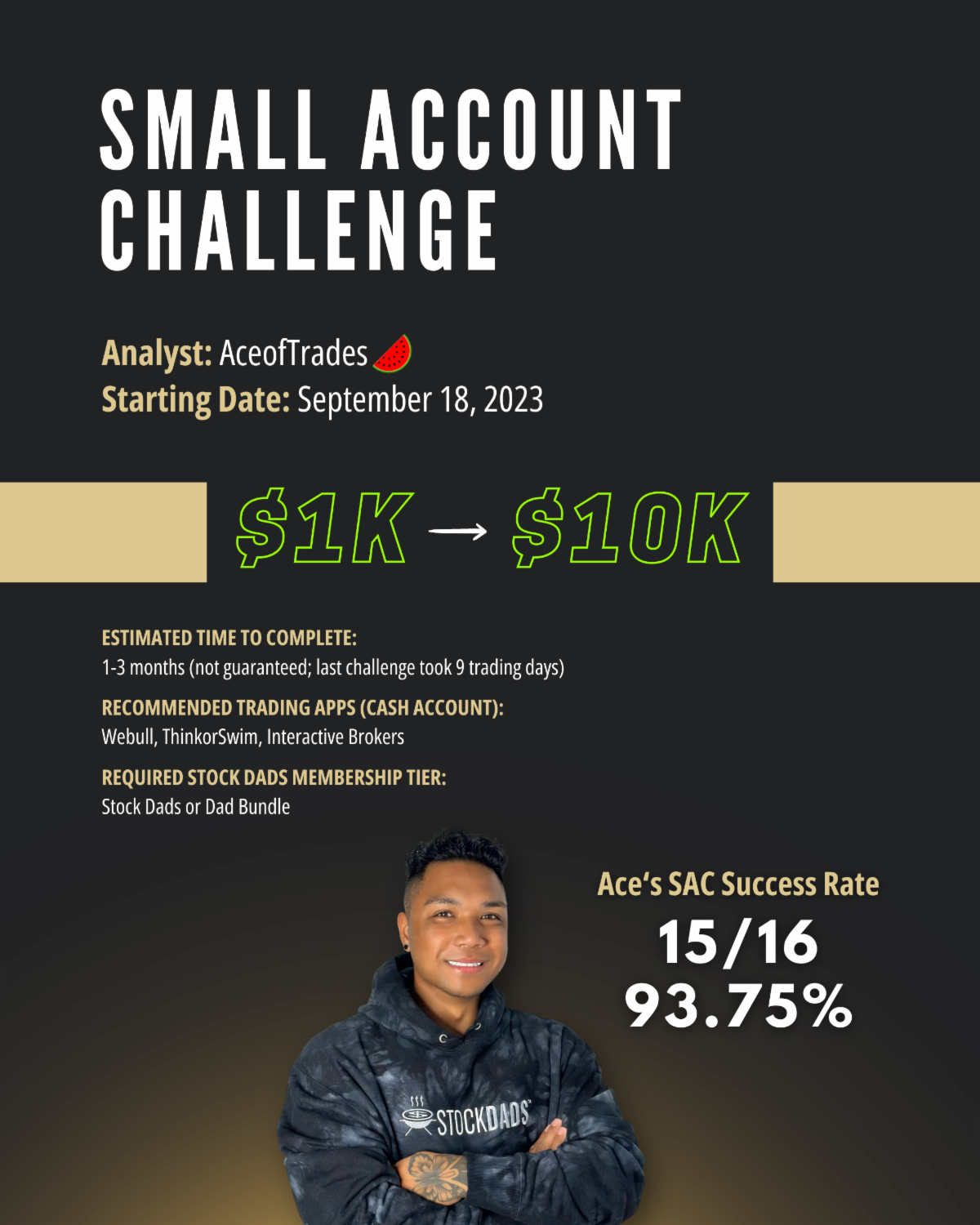 Join the Small Account Challenge Starting September 18
Ace turned $1,000 into $5,000 in just 9 trading days last month. Now he's attempting to turn $1,000 into $10,000. This will be Ace's 17th Small Account Challenge. 15 of his past 16 Small Account Challenges have been successful, for an impressive 94% success rate. So what are you waiting for? Join Stock Dads now to get Ace's trade alerts!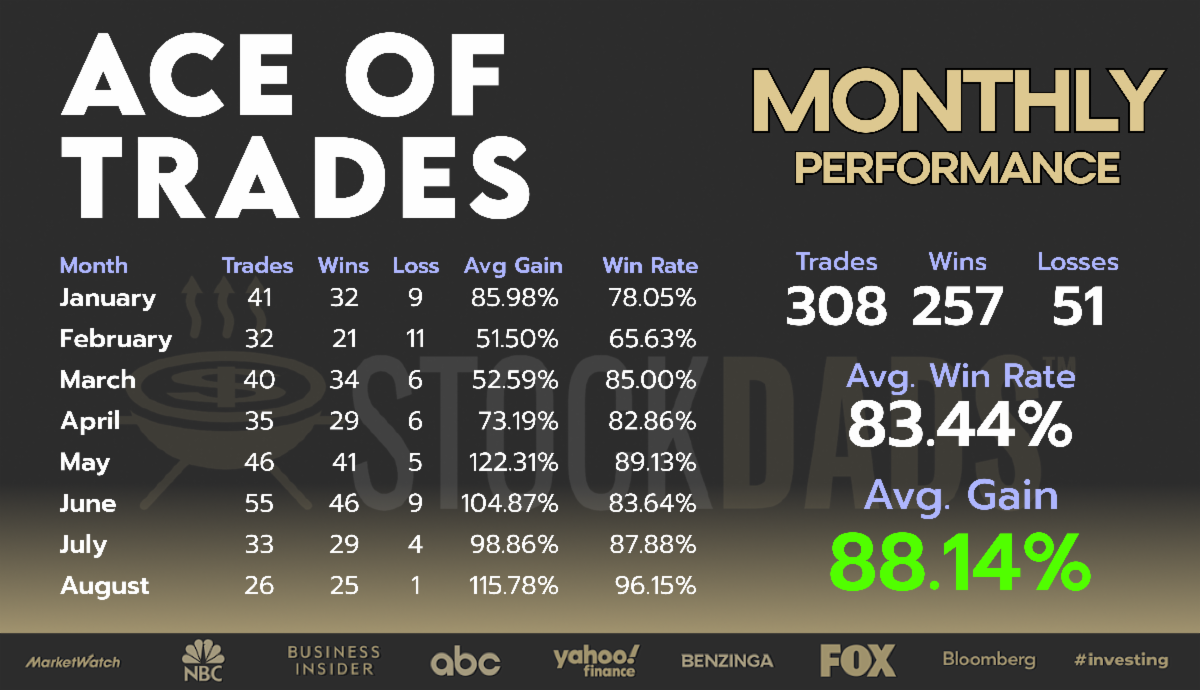 Ace is Profitable 83% of The Time!
Ace has an amazing 83% win rate and an impressive 88% average gain per trade. With numbers like these, you can see why he's so successful with his small account challenges. And the best part about Stock Dads is that Ace's trade alerts won't end when the small account challenge ends. You'll continue to get Ace's trade alerts every morning for as long as you keep your membership active. DAILY REAL-TIME TRADE ALERTS
Alerts for stocks, options, crypto, and sports betting from our exclusive team of professional analysts EDUCATION AND LIVE TRADING
Live trading, and exclusive access to Stock Dads Academy and Technical Wizard educational courses TRADING TOOLS AND RESOURCES
Option flow, artificial intelligence alerts, daily briefings, custom screeners, tools and more 1:1 MENTORSHIP AND GUIDANCE
Personal mentors that guide your experience and lead you through the Stock Dads Roadmap COMMUNITY WITH OTHER DADS
Trade, compare grills, dad jokes, game together, and more with the best Dads community out there
Definitely worth the subscription price! The amount of resources alone is pretty mind boggling and easily is worth the price alone but you also get excellent insight from some very talented individuals. Thank you, Stock Dads!

Hedge Fund Quality at a Retail Price
Stock Dads is a community for EVERYONE not just Dads! They are a professional private community with a LOT to offer.
Daily Live Trading – Stock Dads has a full-time trader by the name of Fuzz, who identifies live actionable trades that you can take. Fuzz and I have traded closely together and even through his comedic attitude can find ways to be serious and get to the point when making the community money day-trading.
Road Map – Gives you one-on-one mentorship from an experienced trader who develops a customized learning plan for you based on your experience level and the amount of time you have to dedicate to learning how to trade. This personalized plan gives you a structured and organized outline of recommended tasks that are based upon your level of experience with trading and using the Discord platform. As you progress, tasks will become increasingly more involved based on your improvement and ongoing assessments from your mentor.
Assistance from Professional Traders and Verified CPAs – Stock Dads has very professional mentors that can help answer unique questions you may have around trading and even the taxes regarding your losses or gains.
Trading Tools and Resources – Live Streaming of Black Box and other screeners and tools necessary to make a plan in your day trades!
Access to Your Favorite Traders – The same analysts you've come to know and love in the Lucrum Investing discord as well as many others are available at Stock Dads, including your very own Stock Curry!